1957 Chevy Belaire Hard Top

Price: $12,500
MANY MANY MORE CLASSIC CARS IN STORAGE! WANT SOMETHING ELSE? JUST ASK!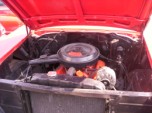 Awesome 1957 Chevrolet Hard Top for sale by Po' Boy's vintage cars in Boaz, Alabama. We are one of the top Alabama Classic Car dealer sites on the web! This 57 Chevy is great, but we have many, many, more antique cars than this! Email to ask about any classic car you might be interested in!

History Behind the Beautiful 57 Chevy Bel Air
Beginning with the 1955 model year, the Chevy Bel Air offered some exciting new looks. Bold new styling included tail fins and hooded headlights & the all-new V-8 engine was the first to offer Ramjet fuel injection. The 1957 Bel Air offered also was 2-1/2 inches longer than the 56 model and gave a perfect opportunity to show off it's trademark flashy tailfins and hooded lights. This model also incorporated a longer a wheelbase & body with even more trim than the year before. The 57 Chevy Bel Air is the essence of the 50's perfect Classic Car. Everything that a cool teenager from the era would love. Style oozed from this vehicle like no other of its era. It's rear fenders looks like a perfectly swift connection to the tail fins. Also features a nice wrap around windshield.
The 57 Chevy Bel Aire - Highly Popular Car of it's Day
The Chevy Bel Air was one of the most sought after and sold cars of the era. It was considered the cream of the crop in Chevy' s fleet. For the 1957 Chevy, the grille was made taller and wider and looked great with the bumper, while the 57 Bel Air interior was done impeccably, especially in the design of the elegant dashboard. The 57 Chevy, also features another cool trick, not seen before is the hidden fuel cap!
Today, 1955-57 Chevy' s are exceedingly popular with collectors. In fact every year that goes by, and as this this car gets older, it becomes more & more sought after by classic car collectors than ever before. So if you want this car, please be sure to email as soon as possible and talk to Chris. .
Get your 57 Chevy (1957 Chevrolet Hard Top) from this old Alabama Classic Car Dealer!